I hope everyone is having a good Monday so far!
I wanted to feature a blog today from a sweet friend, Nancy, over at Lafe's Hidden Treasures!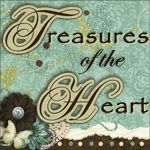 Today she posted a delicious recipe for Chicken Pot Pie which my family has tried and loves as well. It's super simple and you can really load it up with the good stuff, unlike those frozen pot pie dinners.
http://lafeshiddentreasures.blogspot.com/2010/02/easy-and-yummy-fried-chicken-pot-pie.html
While you're there, peruse her other posts, there's lots to see and read!
Additionally, she has a fun Etsy shop with lots of good stuff, I featured her "Butterflies in Flight" block in one of my treasuries (see previous post about the treasuries I made).
http://www.etsy.com/shop/lafeshiddentreasures